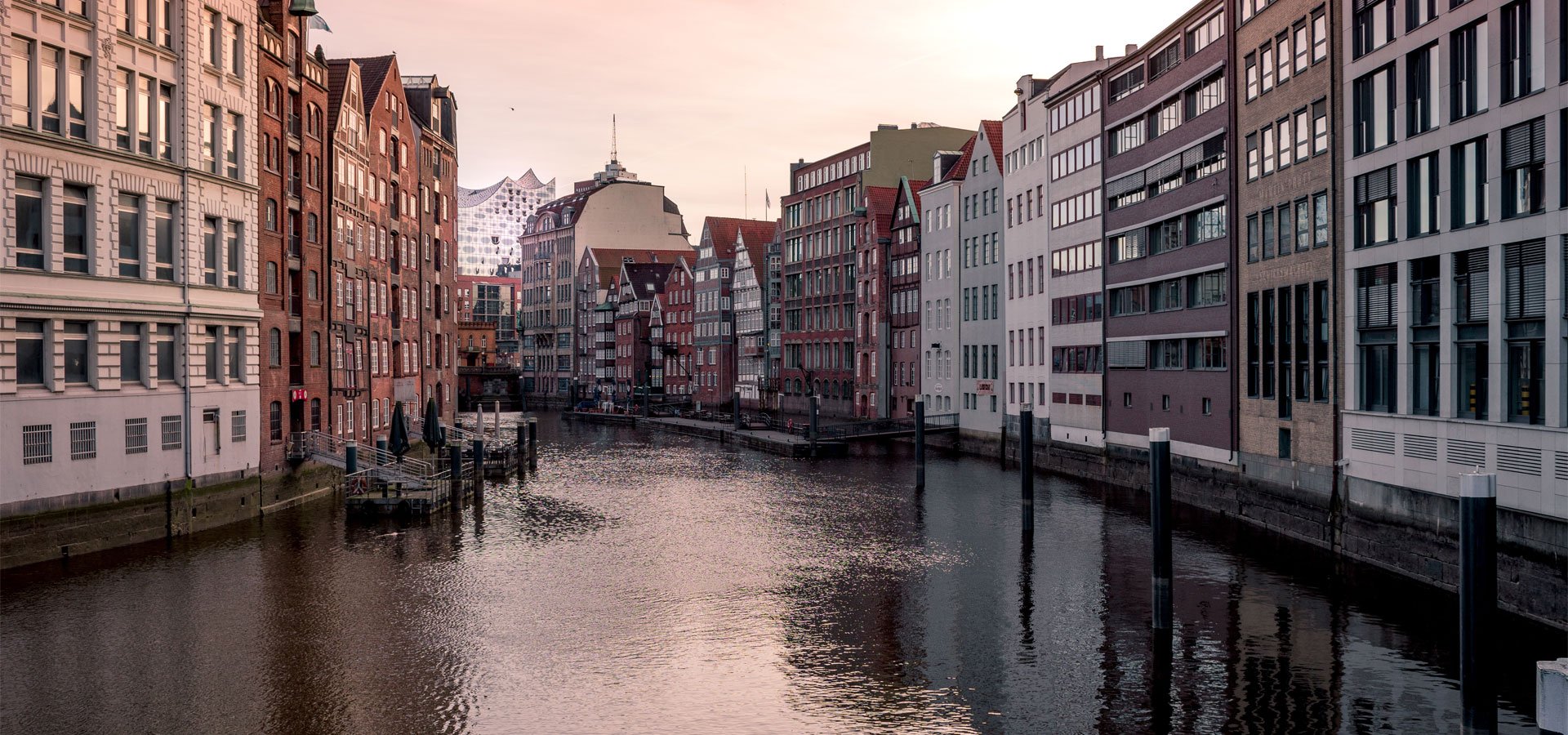 PRESS
21.05.2019 - Hanau's Mayor Claus Kaminsky visites Consultinghouse
A FULL-SERVICE PROVIDER FOR FOREIGN COMPANIES IN GERMANY
Hanau - May 21st, 2019 - "We help foreign companies settle in Germany and provide them with a full 360° -service", explains Andreas Wilke, Managing Director of Consultinghouse A.M.C. Int. GmbH to his guests. "Our core concept is based on offering market entry strategies, answering questions around the company setup in Germany, business development, marketing & sales as well as general and payroll accounting services", he further specifies. "This and last year alone, we were able to register 15 companies from eight countries with around 60 employees in Hanau. Not all of them remained in Hanau, but most decided to stay in the region", according to Wilke.
Mayor Claus Kaminsky and Matthias Mainka, authorized manager of the Economic Development Agency Hanau GmbH (Wirtschaftsförderung Hanau), visited the company in Hanau's inner city and were impressed by what they heard and saw. "This is actual business development with a focus on new business formations that benefit the city and the region –all without the use of tax money! Our strategy, to work closely with private entity companies like Consultinghouse as our partners in order to promote foreign start-ups, is a success." stated the mayor.
In addition to the activities of Hanau Economic Development Agency, Consultinghouse represents an additional important block in Hanau's foreign investment marketing, but also for the entire region and Germany as a business location. "For this, you deserve our great respect as well as our gratitude!" says Hanau's mayor. According to him, Hanau has many global players among its companies, which are also internationally positioned. "The companies that settle to the city and the region due the effort of Consultinghouse are a perfect match for the city and its economic development."
Consultinghouse is a family business that was founded in 1983. Ever since, they have been located in Hanau. "At that time we offered typical accounting services", explains Andreas Wilke, "but our business has evolved over the years and we are now actively pursuing the transformation from an analog to a digital consulting company." In order to provide a better customer experience and at the same time make internal processes more efficient, Consultinghouse developed the platform "MyDashboard". The platform is cloud-based and hosted in Germany. It serves as a centralized communication tool between clients and their professional service prover and it specializes on digitalized accounting functions. "The app gives our international customers 24-hour-access to the most important information and services –regardless of the time zone", states Wilke. This is something customers highly appreciate. "Creating the app was a team effort. Without the commitment of each individual team member it could not have been done and it certainly would not be as successful as it is today."
"Consultinghouse's clients are from all over the world, but the focus markets are India, Great Britain and the U.S.", Wilke specifies further. Here, the company's presence at trade fairs and events serves the purposes to better reach its customers. "To name some examples, we represent the Indian Tata Group, DMI from the United States and Momenta, a Chinese company that develops solutions for autonomous driving", he states. His team consists of 12 members. "I am delighted to be surrounded by such a small but highly inspired group of people. And we are always looking for motivated employees that would like to work in an international environment", Wilke points out.
"I am glad that during your many successful years in this market, you were able to invite a large number of foreign companies to come to Hanau and the greater area. And I hope that there will be many more to come", says the mayor Kaminsky. "It's also great to see, that a well-established family business is now under the leadership of the next generation", he happily states. "Please keep up the good work and I can assure you that you can always count on the support of the city of Hanau and the Business Development Division!"
Mayor Claus Kaminsky (3rd f.l.) and Matthias Mainka (1st f.r.) General Manager of the Wirtschaftsförderung Hanau GmbH, are visiting the Consultinghouse A.M.C. int GmbH. They were greeted by the president Andreas Wilke (2nd .f.r.) and his employees Sahi Veyisoglu and Angela Gerolometto (1st u.2nd f.l.)