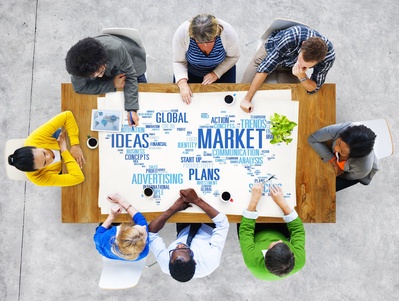 A growing number of companies around the world have begun to see the importance of market share, not only at the national or domestic market, but also in the global market. Furthermore, success in international ventures may increase the total volume of a business and reduce associated costs.
Any company may decide to expand, either looking for new market niches in existing countries, or seeking new markets for market segments already identified and addressed. Central to the performance of these actions is four types of market expansion strategies that are widely employed.
Focus on international market segments

. This strategy involves focusing on a limited number of customer segments, in a few markets. Usually, it is a starting point for most companies looking to expand as it is consistent with the resources that are owned and investment needed in international markets. This is a play-it-safe approach when you are unsure about how your product or service would perform globally. It is like the option of a trial version of a software, you test out your offerings on an international workbench and then scale up from there if the results are favorable.

Focus on international markets diversification

. This is when a company serves many markets but in a few countries. This strategy is highly recommended for those companies that want to grow and expand into new markets and wish to diversify their product range by modifying their existing products or creating new global products. This mode of expansion is often used by food companies to cater to local tastes. For instance, an ice-cream company can release a Kulfa variant in the sub continental market to cater to regional taste, along with their normal line of products. The Kulfa would ensure that the company gets local exposure.

Diversification and concentration in international markets

. It is the classic comprehensive strategy in which a company seeks the world market for a product. The advantage is that by giving the global exposure to their product(s), a company can achieve higher sales and lower costs than competitors and, therefore, have a competitive advantage. A well-managed company has this strategy as it caters to a specific category according to their needs and customer potential. However, usually such strategy is only employed by established firms as it requires considerable capital investment and a product or service that is unique in its attributes.

Diversification in countries

. It refers to the corporate strategy of a global company with multiple businesses around the world. That is, companies that have holdings in multiple countries and their various units and business groups serve multiple segments. The managers of each unit focus on meeting the needs of customers in their respective market. This strategy is mostly employed by the companies looking to diversify in the services sector, like banks, as it allows them to enter into local alliances that help them go forward in the market in question without considerable investment.
However, despite the strategies mentioned in this article, it is imperative that you do market research in order to get the best possible outcome while insulating your company from a potential financial disaster.
---