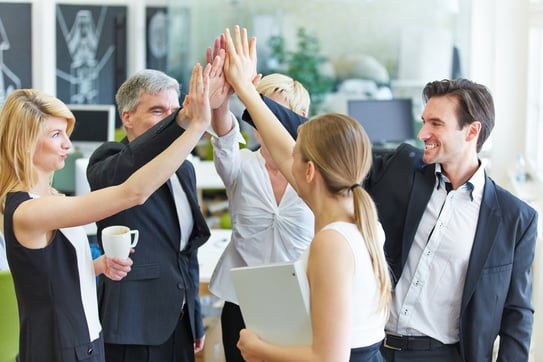 Caring and motivating your team is one of the most important tasks any business owner has. Fortunately, it is not always necessary to 'pull checkbooks' to create a good work environment that encourages productivity. There are several other methods that are equally effective and yet ignored by many.
The human resource of a company is, without doubt, its most important part. It is not a theory present in all human resource manuals, but a reality that a business owner lives day to day. Yes, capital and ideas are fundamental as well, but without a group of professionals rallying behind them, a business cannot thrive – it simply cannot take advantage of its full potential or, in the long run, be competitive.
When it comes to making the best of out of your team, the first thing that comes to mind is money: raising wages, offering better payments for increased productivity. This economic gratification, while effective until a certain point of diminishing returns, is not always the right answer.
This is demonstrated by the report 'Employer Branding 2016' of the Dutch human resource consulting firm, Randstad - the second largest in the world. The reports helps us to see what employees are looking for when it comes to valuing a job as Randstad analyzes its treasure-trove of human resource data in the 34 countries it operates in. And although, as expected, salary is the main argument in favor of the company – as 63% of those surveyed admit – it is not the only one. Work safety at 56%, a pleasant working environment at 49% -, good future prospects at 47%, and family conciliation at 45%, round off the list of priorities.
Based on these preferences we can see a set of 5 work incentives emerge that you can implement in your company and increase employee morale without offering direct economic benefits.
1. Implement a flexible working day
Studies have long shown that the 'split day', practiced in so many companies, is counterproductive and that not working more hours, is more productive. With this idea in mind, a company should create a flexible working day in which each member of your team can manage their time and make it compatible with their family and personal development.
For example, a good idea is to set up a continuous day where everyone can choose an hour of entry and exit according, perhaps, to the school or after-school activities of their children. To clarify, if a person needs to drop off their kids before coming to the office, they can come in at 10 am instead of the usual 9 am. And then when they have to pick them up, they can take a break at 3 pm instead of the usual 1 pm.
2. Offer greater autonomy
This is a classic in terms of motivation at work. As the employee goes to work, it is important to give them autonomy to manage their time and tasks. This way they will not feel the dreaded 'boss pressure' and will notice a greater freedom in their workday which will translate to better productivity.
This 'transfer' of autonomy must be done gradually so that the worker gradually adapts to their new responsibilities. Studies show that the beginning of the calendar year is when a worker reaches their highest levels of productivity. So, implementing a new management regime around this time is the best way to allow for your employees to quickly acclimatize themselves.
3. Facilitate continuous training
Most professionals like to be up to date on the latest developments in their sector. But sometimes it is not easy for them to take out time or money to train. That is why one of the best incentives you can implement in your company is a continuous training program for your team.
What professional concerns do your employees have? What new knowledge are they looking to acquire? Make sure you know the answers to these questions so that you can offer the most appropriate training. For example, many relatively older employees feel threatened by the rise of the 'digital workplace' involving computers, smartphones and internet even if they are not directly involved in their use. You can offer them training in this regard, provided it is cost-effective.
4. Activate forms of internal participation
A worker feels much more motivated when they knows that they are part of a group and that their opinions are valued and taken into account. How many times have we not heard comments from frustrated workers being passed around in the office who feel ignored? If you, as business owner, provide the right channels of communication and make your team part of the day-to-day running of your business, you have managed to give them a personal stake in the business's success.
Run away from the classic suggestion box that nobody uses. Propose, for example, bi-weekly meetings outside the office. Why not a casual beer on which to chat about how to improve the workplace?
5. Recognize a job well done
Something as simple as a public recognition of a job well done can raise the morale of your team and foster a good working environment. And you don't need to conduct ceremonies for this! A more viable option that is seeing increasing use among companies are social networks: a mention on Twitter or Linkedin, highlighting the work done and the professional quality of your worker is an excellent form of public recognition. Plus, you can also go down the fast food restaurant route of a prominently displayed 'Employee of the Month' picture! But don't leave the picture without context, do mention the reason for your choice!
---