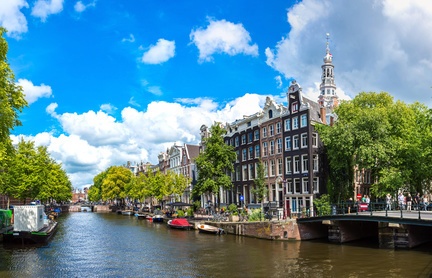 The Dutch government has competitive tax laws, with incentives for entrepreneurship and foreign investments in the Netherlands. Consequently, the country is home to one of the largest foreign business presence in the European Union. Here are 8 reasons why you should consider to invest in the Netherlands:
Strategic location in Europe
The Netherlands provides a strategic location for the markets in Europe, the Middle East and Africa. The central geographical location of the country, combined with accessibility and an excellent infrastructure, are just some of the reasons why many European, American and Asian companies have their headquarters here.
Competitive tax climate
The Dutch tax system offers a taxation regime that is very viable for international enterprises. This includes a corporate tax rate of 20% on the first 200,000 euros and 25% for taxable profits over 200,000 euros. There are also advantages in the structuring of liabilities and losses, as well as a large network of tax treaties, whereby the withholding tax on dividends, interest and royalties are reduced. Finally there is the 30% rule, when 30% of a worker's salary will be reimbursed tax free if these workers were recruited or used from abroad and have specialized knowledge that is scarce in the contemporary Dutch labor market.
Outstanding logistical and technical infrastructure
The port of Rotterdam is the largest and most important port in Europe, and the Amsterdam Schiphol Airport is number fourth in Europe in terms of passenger transported and third in terms of cargo handled. The Netherlands is also considered one of the top 'networked' countries in the world and thus provides ripe opportunities for dynamic e-commerce solutions, communications and outsourcing. More than a decade of investment in cable, digital communication systems, and high-speed Internet, as well as the rapid use of the latest computer and telephone technology, have created an ideal base for companies who want to use modern technology.
Favorable environment for innovation
The open innovation approach of the Netherlands and the well-organized public-private partnerships offer companies wishing to accelerate their business processes, a viable technical environment. In addition government's friendly policies have heralded a business era marked by creativity, cooperation and reliance on scientific methods in the country. Thus securing the Netherland's place as one of leading innovation centers in the world.
International business environment
The Netherlands, with its long history as the most important trading post in Europe is an obvious choice for the location of a Europe-wide operation. Whether it is a European headquarters, a shared service center, a customer center, a distribution and logistics operation or a research institution, the pro-business environment creates a gateway to Europe, promising the international company ready access and ensuing success across the continent. An international perspective and openness to foreign investors is rooted in Dutch culture, this has led to a wealth of world-class business partners who know how to have deal with global economic challenges in today's economy.
Suitable staff
The Dutch are among the best-educated, flexible and motivated employees in Europe. In the Times Higher Education World University Rankings 2012 provided by Thomson Financial, 12 Dutch universities made to the top 200 of the annual list. Dutch professionals are among the world's best in terms of foreign language skills, so they can successfully work in a globalized setting and communicated unimpeded with customers and coworkers from across the world. In addition, Dutch law gives employers a number of ways to flexibly procure labor – including readily hiring foreign workers to specialized posts.
Attractive quality of life
The Netherlands has developed and maintained high standard of living for its inhabitants at an affordable rate. The cost of living, housing, education and cultural activities are lower than in most Western European countries. Moreover, a plethora of cultural and leisure activities are available for everyone. Whether it's a relaxing afternoon at the beach, the enjoyment of culinary delights,or immersing themselves in theater or opera, the new residents will soon have the feeling that the Netherlands is an extremely hospitable and entertaining country.
Industry-leading wind energy infrastructure
Historically, the Dutch have been reliant on renewable energy for much of their energy needs. Consequently, nowadays Netherland's is considered synonymous with a windmill (along with tulips!) and with good reason. According to data available with Eurostat, as of 2015, the Netherlands have an installed wind power capacity 3,431 MW. This is one of the highest per capita wind power figure in the European Union. In addition to land-based farms, offshore wind farms, which operate on winds generated over the sea, are also being rapidly commissioned. The Dutch government expresses its interest in installing 6000 MW of offshore wind power capacity by 2020. This is in view of the European Union's recommendation to generate 14% of a member state's electricity output by renewable resources and the Netherland's only solid bet is wind power because of its unsuitability for other forms of renewable energy – like solar and hydro power. Therefore this area is ripe for foreign investment.
---